Dogo area (1.5~2hours)
Let's enjoy Japan's oldest hotsprings town!
Dogo is located in eastern part of the center of the city. There are many highlights around Dogo onsen tram station. You can enjoy Japanese historical structures and souvenir shopping arcade around here. Dogo is renowned as Japan's oldest hot spring. If you don't want to try Japanese public bath, you can enjoy its healing power at free footbath places in Dogo.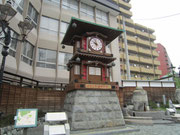 It's a mechanical clock moving up every hour from 8am to 10pm.
Beside it, a foot bath is available for free!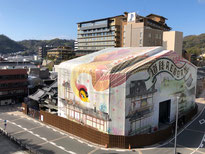 Dogo Onsen Honkan is now under renovation. Most of the buildings are covered in scaffolding, which has "Phoenix" on it.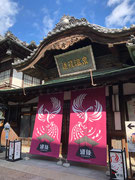 Visitors have access to one of the hot spring baths on the first floor during the renovations.The entrance is  on the  north side an it costs 420 yen to take a bath.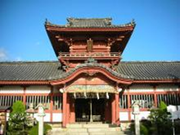 It's a guardian shrine to protect Matsuyama city.
Let's go up 135 stone steps!
You can try "Omikuji" fortune slip in English for 100yen.
Other interests in Dogo
There are free foot baths here and there in Dogo.

Hogonji temple, Enmanji temple and Dogo Park(Yuzuki castle site) are also nice!