Matsuyama Castle (1.5~2hours)
You must feel an atomosphere of  the Samurai period!
Matsuyama castle is a historical heritage of the Edo era,17-19th century.The castle complex consists more than 50 structures, 21 of which are designated important cultual properties.

You have three choices to go up to the middle of the castle hill: ropeway,chairlift or 15-minute walk. Ropeway and chairlift fares are 260yen(one-way),500yen (round trip). If you walk up the castle hill, take a short-cut from the 3rd floor of the
                                        ropeway station.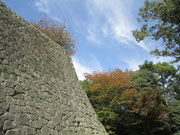 A beautiful stonewall.
Don't climb up!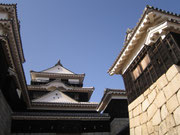 Many interesting things;armors,swords,paintings etc, are exhibited in the main castle tower. You can enjoy panorama view of Matsuyama from the top floor. (entrance fee:500yen)

Anyone can try to put on a replica Japanese armor on the first floor of the the main castle building.  It's free! 

Behind the Main castle is also a nice place to walk. Go through the "Shichiku-mon(紫竹門)" gate behind the castle tollgate.
Ninomaru Garden (0.5-1hour) 
A peaceful atmosphere welcomes you!
Ninomaru garden is located in the base of the castle hill. Here used to be the residence of the castle lords. Unfortunately original structures are no longer standing, but there are lovely traditional Japanese houses, gardens and some reconstructed buildings. It's worth visiting here on the way to or from the castle.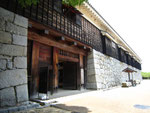 Access: Get off at Kencho-mae tram and bus station. A ten minutes walk from there.
Open hours: 9:00~17:00 (Aug. 9:00~17:30, Dec.& Jan.9:00~16:30)
Entrans fee: 100 yen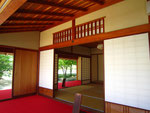 Tea ceremony is held on every Saturdays, Sundays and bank holidays in April, May, September, October, November, February and March from 10:30~15:30. It cost 300 yen including small Japanese cake.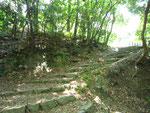 This foot path from Ninomaru garden to the castle goes through the castle woods. The 15 minutes' walk will surely refresh you.